History of the Bergen Rocks Symposium Program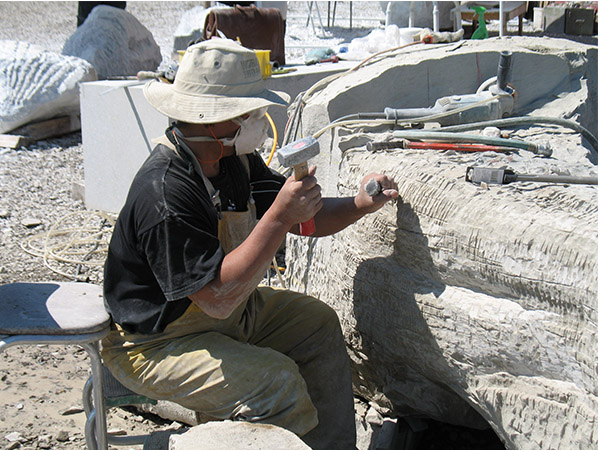 The 2008 event was the first in what developed into four symposia. There was a mountain of unknowns, but I plowed ahead confident that most things would work out and where there were glitches the participants would go easy on me knowing that this was a grass roots event and the only artist sponsored monumental stone sculpture symposium in the world. I explained before the artists signed the participation agreement that the pageantry that is normal at these events in other places would be absent, we would be singing songs around the campfire rather than being provided with entertainment, and visiting friends homes for special dinners rather than elegantly catered banquets. Maybe some of that will develop as awareness of this program develops, if not it's no biggy, we have a gas. Bergen Rocks is becoming well known in the international sculpture community as a unique event. We had 178 proposals for the 2011 edition!
There is a lot of work to do ahead of a symposium event; stone procurement, tools and equipment, permits, visas, transportation to and from airport………….right down to bedding and menus. It's a big job and it takes me about a year to get all of my ducks in a row.  
Selection of participants is a big one. Typically, a call for entry is distributed about a year ahead of an event. Your entry will include your CV, an image of your proposed sculpture and your artists' statement.  
Some events have a theme such as wildlife, family, water, etc. and some dictate a certain style such as abstract, cubic etc. Bergen Rocks has always been "free creation", submit the kind of art that you'd like to do. Maybe something that you haven't had a chance to do in the past because it didn't fit your market or you didn't have a suitable facility etc.  
A photo of a model you prepare, or a sketch or drawing is normally included in your entry. Selection committees want to see what you propose to do rather than just read about it. Below is an example of each, the sculpture you end up realizing may differ slightly due to the dimensions of your stone, issues with your stone (eg. fractures) or something like an inclusion  in the stone (fossil, coloration etc) that provides an interesting opportunity that you hadn't considered.  
Sketch of "Connection"
Min Kyoung Uk
Model for "Movement in Space" 
Peerapong 
Doungkaew
For the first Bergen Rocks I really didn't know if artists would be interested in my concept of a grass roots event, others are sponsored by a municipality, a provincial or federal government, large corporation or an institution. The idea of an artist being the host and sponsor was a new idea, but I had no alternative. I had contacted potential sponsors over about 5 years and since the concept of a symposium was not well understood in Alberta there were no takers. Well, I sent invitations out to 20 sculptors that I knew, asking if they'd be interested in participating, and to my surprise all of them answered yes. That year I literally put those names in a hat and drew 5 out. I had no selection committee and couldn't, in good conscience, eliminate anybody except through a random choosing.  
So, what really started the whole thing rolling was support and encouragement from sculptors around the world. The rest, as they say, is history.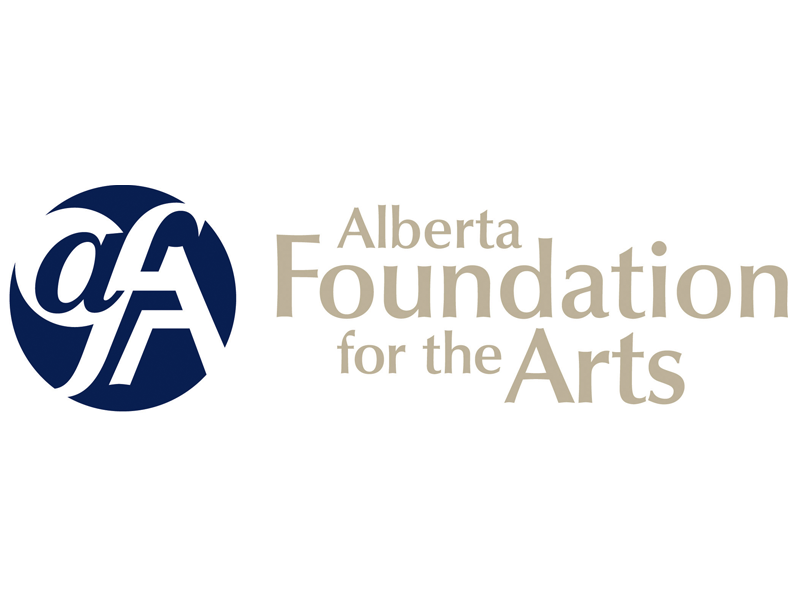 *Thanks go out to the Alberta Foundation For the Arts which provided a grant in 2008 that helped to cover some of the costs. The announcement of the grant award was received 2 weeks before the event, so it woud have gone ahead regardless but it really helped and was greatly appreciated.   
*Thanks also to Mountain View County who waved the fee for the event permit in the interest of accommodating public attendance.
Peerapong Dongkeow

THAILAND
Peerapong is a retired professor of fine art from Chiang Mai University in Thailand. He has participated in many symposia around the globe and is well known for his figurative work. Often animated to some degree his works are enjoyed by all ages. It was an honor for our community that an artist of such stature would create a sculpture for our area. The sculptures created at Bergen Rocks should have a life span of 2000 years or more if properly cared for, they will remain long after the memory of the event and it's participants. 
Bahe Tokmajyan

ARMENIA
Vahe comes from a family tradition of artists/sculptors.  His father participated in the first international symposium in the 1950s.  Vahe's work and that of his father and brother can be found in museums and the homes of kings through Europe, the Middle East and around the world. He holds a Masters Degree in Fine art from the Fine Arts State Institute of Art and Theatre, Yerevan, Armenia 
Nguyen Tan Cuong

VIETNAM
Cuong is a graduate of Ho Chi Minh City University of Fine arts. His work has been shown and collected the world over including Italy, Korea, USA, Singapore, Switzerland, Canada, Philippines and France. In addition to being an accomplished sculptor he is also a highly recognized painter. 
Tran Viet Hung

VIETNAM
Since graduating from the Ho Chi Minh City University of Fine Arts Hung has been a full time artist working in both sculpture and ceramics. His works are placed and collected throughout Vietnam and Korea. 
Paul Patrick Haggins

IRELAND
Paul got his start in sculpture when he saw an ad for an apprentice with a castle restoration company. As he gained experience he had the opportunity to reproduce Celtic images that had deteriorated or been damaged over time. Now, with more than twenty five years of experience he has left the restoration profession far behind. His art works can be found in Asia, North America and  Europe. 
In the first three Bergen Rocks events we used sandstone from Calgary and marble from Mable Lake, near Vernon, BC. There is a mountain made of marble beside the lake, it's crown land and illegal to take stone from there. I contacted the forestry department and they gave me special permission to take erattics (loose stones on the surface) for use in the Bergen Rocks program. In its' fourth edition I switched to stone from Vietnam as we had encountered quality issues with the stone from Mable Lake. It is beautiful stone however as it had been laying out in the weather for 10s or 100s of thousands of years so some had developed cracks and it was also getting difficult to find stones to fit each artist's project. Inevitably the stone would be longer or wider than required to meet all of the dimensions the artist needed and therefore require extra work in comparison to quarried stone that could be ordered to exact dimensions and cut from solid stone. Additionally, after three events I had taken almost all of the stones that were suitable and within reach from the logging roads on the mountain.  
Note* Several of the artists' statements/interpretations mention that the sculpture is talking about or saying something. This is common as the artists often wish to convey something beyond the beauty of the form. In following with that, sculptors will often be referred to as "authors" of their works. 
We start the symposium on a Tuesday and hold an opening ceremony on Saturday. That way the public can see some of the work that's been done, in the first days you might not see much more than a bunch of artists sitting on their stones, burning incense, meditating or something else that will help them get to know their stone. When you find a rock on the riverbank it might be simply that, a rock. Once it is taken to the sculpture site it becomes a stone and is treated with respect, it is part of the process of creation.  
The sculptors are holding a marble "ribbon" that I'll cut with the grinder to officially open the symposium.  City of Calgary has sent a representative to "White Hat" the participants, Travel Alberta also comes out each year to present the artists with a piece of ammolite, Alberta's provincial stone. It's really nice that the guys and gals, get some official recognition for the contribution they are making to our society. Hopefully, the sculptures will eventually be placed in communities in Alberta. With 6 or 10 sculpture parks in our area, Central Alberta, could easily become the sculpture capitol of Canada. I'm so lucky to have fallen into the international sculpture community. That has created opportunities I never dreamed of and is leading to really good things for my community and surrounding area too.  
Our flag raising ceremony is pretty basic in comparison to others. We get the pole stood up by brute force and then the sculptor from that country stands under it and sings his national anthem followed by raucous applause. It's the thought that counts.  
This is a view of the worksite in front of the barn. When the sculptures are completed we move them into the park. The work area includes a roped off area where visitors can safely watch the artists doing their work, it`s interesting whether you've been to one event or a hundred.  
These are pictures of a process called cleaving. After cutting along the line you want to cut the stone on you insert wedges and progressively tighten them until the stone splits. Each type of stone reacts differently. Hung's stone was granite that I salvaged from a building demolition in Vancouver, granite cleaves very well, easy to control. Hung's cut is only about 4" deep across the top and down the sides, the stone split almost as if it had been sliced all the way through.  
Peerapong is using a different cleaving method to take a big piece off the bottom of his stone. After drilling holes in a line that you want to cleave off you insert wedges and tighten them equally in increments until the stone cleaves along the line you drilled. Some stones need to be drilled right through to keep the cleave going straight down and some, such as granite, only require a shallow hole.  
Paul created a Celtic Cross in two pieces. The top of the cross is in its early stages here. He is carefully creating the negative spaces, they create a sense of depth rather than a solid piece of stone with only the outline to define the form. The negative spaces in a Celtic cross are called "lights". Crosses that have lights are always placed so that the arms point north and south. The lights face east and west so that in the morning the sun shines through them to start the day and again in the evening to end it. In Canada the cross is usually placed so that you face it when you enter a church or it looks the best on a property, the tradition has been lost here.  
Paul's cross has been turned on it's side now, we do as much work as we can with the stone in one position and then reposition it. This move was to be able to cut the bottom so it would sit perfectly on top of the shaft, he's checking it with a square. The figure that Hung is carving for the top of his sculpture lays between the tents, he was likely working on the shaft of his sculpture when this picture was taken. 
The worksite is really spruced up with all of the flags flying, kind of takes the edge off the messy worksite although that's just the way sculpture is.  
I have equipment ranging from this large stone saw, (and one that's larger) to the finest diamond point die grinders. Once you start your cut there isn't a lot to do but sit and wait for it to finish. Notice the water coming off the back of the blade, that washes away the fine dust created by the diamond impregnated blade and keeps the blade cool.  
Normally the sculptors will work on their pieces right to the end of the working time, leaving one day to do the installation. There goes the top of Paul`s cross onto the shaft, installation day is always exciting but a little nerve wracking.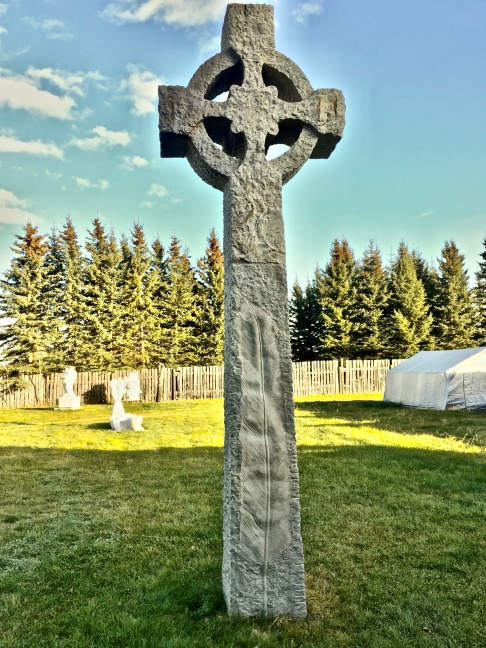 And walla, it`s completed, a successful sculpture. You can never be sure if you have been successful until it`s landed in place. Poor Berta Shortiss from Sweden, at An Giang Impressions her beautiful sculpture was broken in two during installation. It turned out to be very interesting and after many tears she decided she loved it. Sometimes the stone itself dictates something the artist didn't plan. Eg:  Paul left the face of this cross plain, without the traditional fancy scroll work he had planned because as he got to the surface petrified wood and marine fossils appeared, he felt they spoke to ancient times and fit with the title, "Ancient Cultures"  That's pretty cool. 

The Cross, of course represents ancient Irish culture and the eagle feather on the shaft represents ancient Canadian Culture.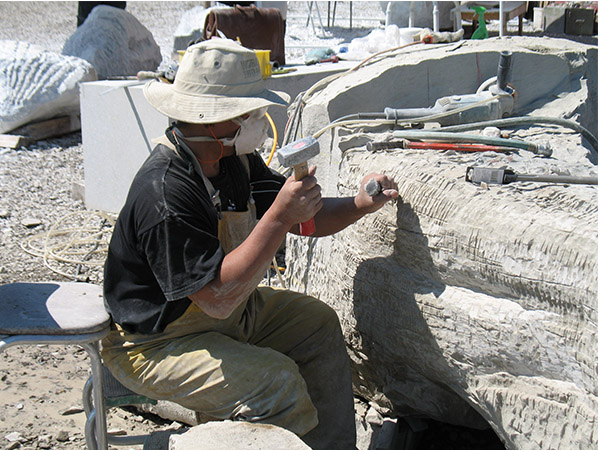 Peerapong worked like a young man every day with volunteer assistant Stephen Pope from Okotoks. It was a rush to complete his detailed piece before installation day  
Vahe created a tryptic, three pieces titled "Moods of the Sea". The stratified Mable Lake marble was perfect for this piece.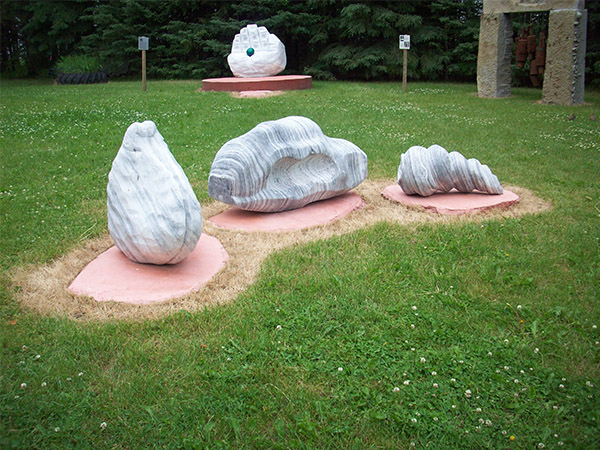 Each year the heritage barn on my acreage is transformed into an art gallery, artists from Sundre and across Alberta and BC have shown and sold their work here. It adds another interesting thing for visitors to see and a great place for us to take our breaks. Wendy Tredger from Sundre did this fabric portrait (below) of a well-known local cowboy, Sundre folk will recognize him and probably recall one of his cowboy poems.  
The opportunity to work with an internationally renowned sculptor is pretty cool. Most of the sculptures could not be completed in a month without assistants, every year people come from all over Alberta and BC to help out with the event. It's a whole pile of fun as well as a chance for bragging rights for the rest of your life.  Some volunteers cook meals, take artists to town for things they may need and get in on all the after hours fun that we have too.  Of course local sculptors are excited to get their hands on the stone and help with the hard work. 
People come out of the woodwork when the word of Bergen Rocks coming up gets around. Melody Gillis is a great cook which the artists are all thankful for, I think they know it's not my forte. Tia, also from Okotoks, visited for a day and cooked an authentic Thai meal much to Peerapong's delight (and everyone else too). 
I`ve shared experiences with Steve Turner around the world. He`s been at every Bergen Rocks event and pitches in anywhere he is needed. As you can see he's a colorful character too, can`t give him enough credit. 
Stephen Pope and Paul Haggins cool off in the water tank. The water comes right out of the artisian well on my property so it's very refreshing.
Brad Callihoo, photographer extraordinaire has documented several of my projects. He had recently lost his left leg in a motorcycle accident so couldn't do the heavy lifting but he carefully gets around the site and does his thing. Many of the photos on this site are his, Callihoo photography.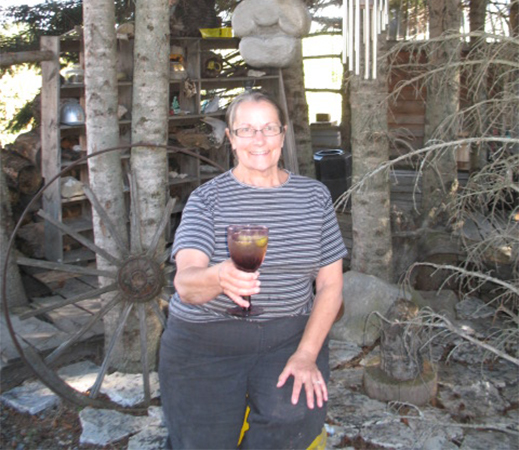 Shirley Paradis from Okotoks has been at every event, she amazes me. Cooking, making art in the gallery and fixing sculptor`s boo boos.  They call her mom. 
She's also the founder of the Atti2ude Club which is now a worldwide organization of artists and arts administrators. 
My daughter Jessica always comes out. I told her to just fit in wherever she could, so she did. 
My neighbor Ed Stacey harnesses up a horse or a two abreast team every year and takes us for a wagon ride, it's a highlight for everyone. 
He has foals every year, who doesn't love a cute pony?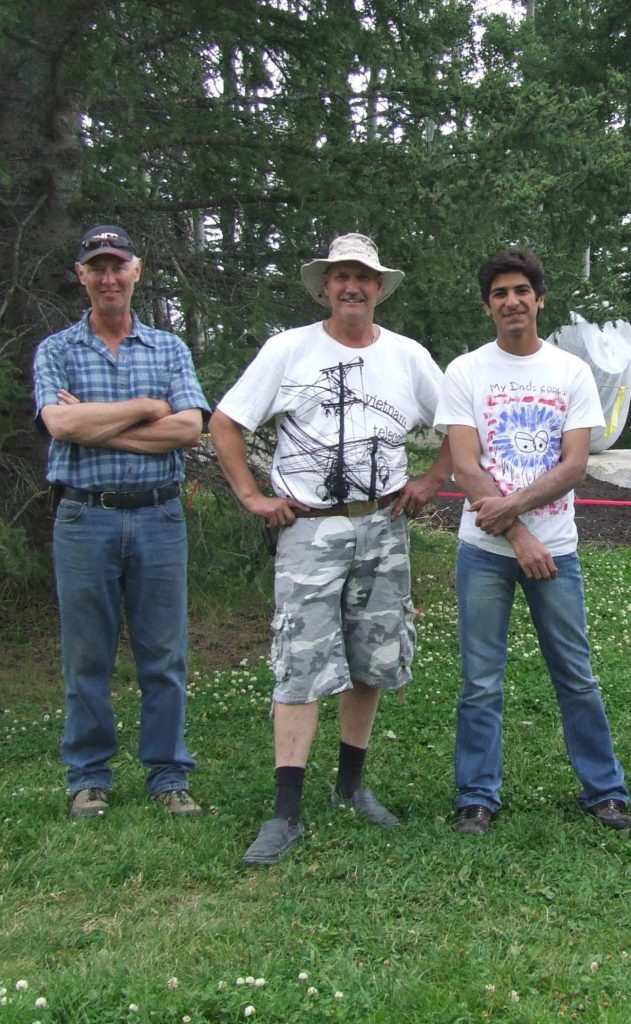 Some of the sculptures are too heavy to simply place on the ground, a concrete pad must be prepared. Kim Vantigham from Vantigham's 
Backhoe Service has come out with his machine to prepare for the pours every year. It would be a much bigger job without this guy, thanks so much Kim! 
Jim McAllister took the guys whitewater canoeing and drove Hung and Cuong to the airport as I was rushing around getting ready for my trip to China the next day for the conference there. 
Mark Stuthiet from Rimby can do just about anything mechanical, he's drilling the base for Peerapong's pin and giving us a blacksmithing demo in the photo on the right, making a forged steel dragon. He isn`t just a pretty face! 
It's not all work at these events, sometimes we goof around a little. This is the dreaded Rhubarb man, not as scary as the taste of the fruit according to the sculptors.  
It doesn`t matter how well you plan, there is always something that surprises you. Who`d have thought that Asians would be freezing when it was a balmy 18 degrees? 
Every Tuesday we take a day off and go on a trip, this year we did Banff, Drumheller, Calgary and Limestone Mountain area.  I`d say the west country was the highlight, there are cities all over the world. 
Ed Morgan from Sundre Motors generously donated a mini van for our trips so we could all ride together.  Town of Didsbury put on a welcome and meet the artist event at their museum that was really nice, champaign and the works.  
When we were all in the van to leave I looked in the rear view mirror and said Holy crap, how many of you guys can fit in the back seat. Peerapong responded enthusiastically "Three Asians!", they all promptly fell asleep and left the seat in the middle empty. All good friends. 
Paul Patrick Haggins, Ireland, Sandstone, 2008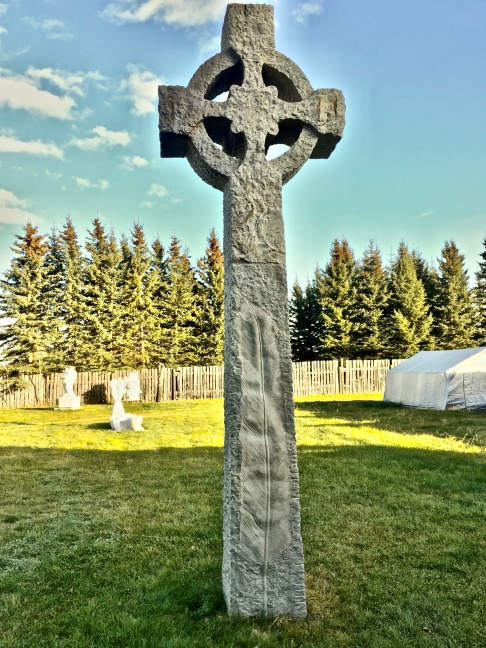 Paul wanted to create a sculpture that depicts the ancient culture of Canada and of Ireland. The Celtic cross is, of course, the Irish element and the eagle feather carved on the shaft represents the ancient culture of Canada. 
NOTE* "Ancient Cultures" has been collected by the Town of Olds and is permanently exhibited at the Highway 27 Sculpture Pathway.  
Tran Viet Hung, Viet Nam, Granite, 2008
The stylized figure balanced on the top of the column represents a family. The largest form is the man, recessed in the man is a woman with hair flowing down her back. The negative space represents a baby. Hung's statement about this sculpture "Family is a good balance for your life." 
NOTE* "Yin and Yang" is temporarily exhibited at the Highway 27 Sculpture Pathway in Olds AB 
Vahe Tokmajyan, 2008, Marble, 2008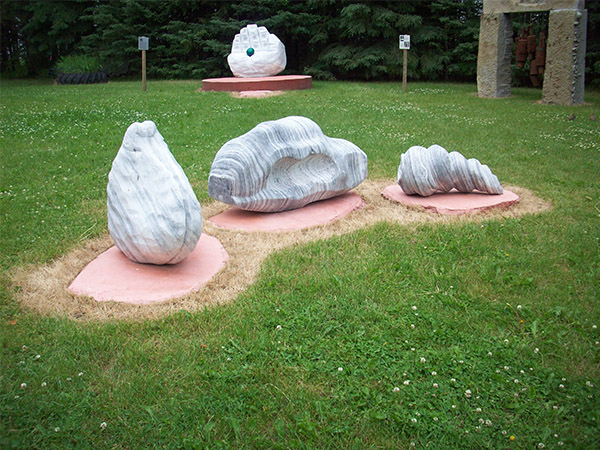 Three sea shells represent three moods of the sea: Peace, Tranquility and Turbulence. 
There are many problems in the world that man has created such as wars, drugs, pollution and discrimination. Now the world is a smaller place and we interact more than ever, we aren't doing the best job of that. If everyone made a small change in how we treat the earth and each other, and we maintain that change, the world could be a better place. It doesn't need to be a big change, only a small one like the pearl of wisdom in the palm of the hand. 
NOTE* "Maintain" is temporarily exhibited at the Highway 27 Sculpture Pathway in Olds, AB.  
Peerapong Duonkaew's sculpture depicts a man diving through the air with a baby on his back. His objective with this sculpture was to create a feeling of lightness and movement from a heavy material. Well done!!