How I started stone sculpture
I  became really interested in art when I moved to the Town of Okotoks. When I was 25 my Grandpa passed away and I purchased his home. His lathe (that he purchased new in 1932) was in his workshop, luckily it had an unfinished bowl on the chuck. I thought it would be neat to finish it and have a piece that we had both worked on. I was my Grandpa's little buddy (he was 74 when I was born) and I had seen him do enough work on the lathe that I figured I could pull it off. Long story short, after I finished that one I figured I could do one from scratch and that led to another and so on and so on. I was hooked.  
When I moved to Okotoks I visited the public art gallery, the show that was on included a local wood turner. I mentioned to the manager that I also did some wood turning and wondered if I could show some of my work some time. She seemed really interested and actually came to my house to see my work, by then I had been turning for 10 or so years and my house was full. Rese liked my work a lot and rather than including my work in a group show she booked me for a solo show! "Morton Burke Retrospective". I joined the local art club and got active in the art scene, attending shows whenever they opened and social events of  "The Atti2ude Club" an organization that now spans the globe peopled by artists, arts administrators and art lovers.   
During my time in Okotoks I organized the Family Day winter festival several times in the late 80's and early 90's, we purchased carving ice and invited artists from across Alberta to come out and carve. In those days ice carving was a relatively new thing and artists would come from around the province for the chance to get their chisels into a block. Now it is much more popular and experienced artists are in demand, command at least an honorarium and accommodations as well as prize money for the best sculptures. Communities that got started back then were visionaries, many events have grown into major draw cards.  
I had done some ice carving for fun when I lived in Sundre, one year in Okotoks the weather was bitterly cold and many of the carvers didn't show up. As local business' sponsored the blocks they would be  disappointed if theirs didn't get carved. My sister came out from Calgary and we got busy making ice chips, I think we did about 7 or 10 sculptures that weekend and had a blast.  
Jumping ahead to 2005, Okotoks decided to produce a small stone sculpture symposium when an accomplished stone sculptor visited town and learned that they were digging new pits at the landfill, there was lots of good quality sandstone coming out of the excavations. Three artists were invited; Vahe Tokmajyan from Armenia, Jock Hildebrand from BC and they invited me, to my surprise.   
We went out to the landfill and chose our stones, that's how my education in stone sculpture began. Those two guys took me under their wings and I got a whirlwind education in design, modeling and sculpting techniques. They explained to me that sculpting is sculpting, working in different mediums is just a technical difference, different tools-different techniques. That put me at ease, as I had worked in snow, ice and wood in the past,…….until I got out to my stone.  
I'm still pleased with the sculpture I realized, that event opened the road to the international events I've been so fortunate to participate in, learning more and more along the way.
This is the stone I chose. Alberta has some of the best sandstone in the world. Sculptors from the middle east, where sandstone is a common sculpture material, who have carved at Bergen Rocks have been blown away. If it is quarried from 20 feet or more below the surface it is as hard as marble and doesn't have the stratification that can be a real problem with sandstone taken from closer to the surface. Lucky for us that the landfill was being deepened, one man's junk………. 
The event was associated with Alberta's 100 anniversary and I thought it'd be neat to have as many Albertans as possible contribute to my sculpture. I had a paper on a table in front of my sculpture explaining my idea and if people wanted they could sign the release, don the safety glasses and come over with the hammer and chisel provided to take a piece off my buffalo. A lot of people took me up on the idea and took their piece home to put on the mantle or something. One guy was just driving by and saw the activity. He took some pieces off where I had cut  frets and then came around to my side and asked if I'd cut some more for him. He showed up every morning for the next week and helped me all day, it's great when you can help someone realize they love making art, most people do if they just get over being shy.  
It was like a homecoming for me to come back to Okotoks, lots of people that I had known when I lived there came to see what was going on. I worked together with Margy and Linda on several community projects when I lived there.  
Most sculptors do other forms of art and it's quite common to have an exhibit of their work in conjunction with a symposium. Since there were only three of us in this event some of our work was exhibited in one end of the gallery and the work of other locals throughout the rest of the venue. It was really nice.  
Jock brought a bronze titled "Hoof" that I particularly liked. It got me thinking, who wouldn't imagine a whole horse when they see this sculpture.  
My Grandpa hunted this buffalo the year I was born, 1960, I used it for a model and kept it in my room, the room service staff might have been surprised. That's artists I guess.  I've used this mount as inspiration for the three buffalo sculptures I've done.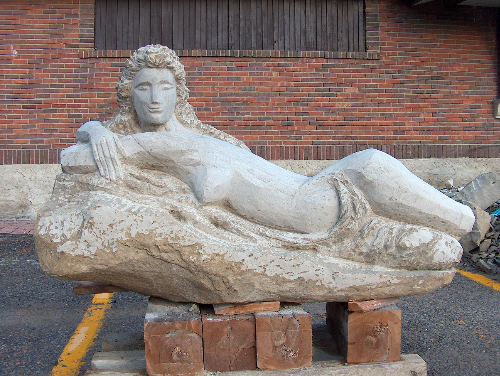 Vahe created a water nymph, significant as the Sheep River runs through Okotoks and has influenced the community in many ways. 
Jock's sculpture was a stylized horse, relevant to the western history of the town. 
My buffalo had historical significance too but I really wasn't happy with the horns. My stone wasn't wide enough to make them standing away from the head as they should, rookie mistake.  
Sometimes sculptors feel that the sculpture Gods influence a better result by forcing a change. Maybe that's what happened with my sculpture. I had Jock cast bronze horns for him, I think they really made him "pop". The title is "Diamond Buffalo" as it has four diamonds on it, one on each shoulder, one in the center of its' back and one under the tail.  "Diamond Buffalo" is dedicated to the memory of Tracie Ward. 
This sculpture is dedicated to the memory of Tracie Ward.
Tracie was the director of the Station Art Gallery and organized this symposium. She was a great arts administrator and a wonderful artist, she inspired many many emerging artists to follow their passion and worked tirelessly in the presentation of art. After she moved from Okotoks she worked in Kelowna BC as the executive director of the Rotary Centre for the Arts. Sadly she passed away in 2012, taken from us far too soon and with too many art works not yet realized.