Olds Rocks Sculpture Pathway
Olds Rocks was inspired by the sculpture park in Bergen. A total of ten sculptures are now on display in Olds, the last one installed in November 2019.
Old Rocks Sculpture Pathway is located along the north side of Hwy 27 on the west side of in Olds, AB.
Paul Patrick Haggins, Ireland, Sandstone, 2008
Paul got his start in sculpture when he took a job restoring castles. He has been working in stone for over 35 years and has travelled to many countries around the world carving. The time spent learning in different places has made him appreciate the art of ancient cultures.
Paul wanted to create a sculpture that would pay homage to the ancient cultures of both Ireland and Canada. The Celtic Cross is the reference to Ireland and the feather on the shaft speaks to the ancient cultures of Canada. On one corner near the bottom are several horizontal marks. These are letters that spell Canada in an extinct language called Ogham that was used in ancient Ireland.
The negative spaces in a Celtic cross are called lights. If a cross has lights, it must be placed so  the faces of the cross point east and west. With this orientation, the Sun will shine through the lights to start the day and shine through the lights once again in the evening to end the day. This tradition is not widely known in Canada and many crosses face the wrong direction.
TONY DIGUGLIELMO, CANADA, MARBLE, 2009
Artist: Tony DiGuglielmo, Canada.
Tony was born in Italy but was raised in Montreal where he completed a Bachelor in Physics, followed by a teaching certificate, bachelor of Fine Arts and Masters in the teaching of the Arts. Although he dedicated a large part of his life to teaching, he now devotes all of his time to sculpture. Man and everyday life are the sources of his inspirations. In his works he fuses the concept of man with elements of nature. 
Description: "Canuck" is a beautifully stylized portrait of an Iroquois man.
The style transitions from organic on the left (the face) to cubic on the right (the head dress).
In addition to being a beautiful form, this artistic transition speaks to the evolution of life in Canada since the first Europeans arrived. The sculpture denotes the transformation of the way of life from living harmoniously with nature to the ways we live now within a gridwork of roadways and predominantly cubic building styles.
GERARD MOTONDI, KENYA, SANDSTONE, MARBLE, 2009
Gerard holds a Doctorate degree in Fine Art from Kenyatta University in Kenya where he is a professor of art. He has participated in many international arts events and, notably, was the gold medal winner in the 2008 Beijing Sculpture Olympics. His sculptures can be seen in sculpture parks around the world. He was pleased to participate in Bergen Rocks 2009 as it gave him the opportunity to reconnect with several artists that he has worked with in other symposia. The major impetus for sculptors to participate in these events is to have to opportunity to create art in foreign countries, to share techniques and inspirations with other artists and to allow the public to become familiar with the tendencies of modern sculpture.
Description: "Desire to Be" represents an aspiration to change from one's present status. All humans of whatever status have a desire to be. Thus successful people from the top look down to the common man's life and desire the simplicity in it. Meanwhile, the simple or common man looks up and desires a life filled with material ownership and fame.  This is a driving factor in our daily lives. We are never content with what we have or what we are, hence making our daily lives a struggle to achieve our desires.
Nguyen Tan Cuong, Viet Nam, Marble, 2008
Cuong is a graduate of Ho Chi Minh City University of Fine arts. His work has been shown and collected the world over including Italy, Korea, USA, Singapore, Switzerland, Canada, Philippines and France. In addition to being an accomplished sculptor he is also a highly recognized painter. 
Artist's Statement:
There are many problems in the world that man has created such as wars, drugs, pollution and discrimination. 
Now the world is a smaller place and we interact more than ever, but we aren't doing the best job of that. If everyone made a small change, the world could be a better place.
It doesn't need a big change, only a small one like the pearl of wisdom in the palm of the hand.
Carlos Valazquez Darias, Cuba, Marble, 2009
Carlos is from Mantazas, Cuba, which is near Veradero. He has been a sculptor for 18 years, during which he has participated in many events throughout the world. In 2008, Carlos won a gold medal for his ice sculpture at the 2008 Fete d'hiver in Quebec. He belongs to the Association of Cuban Artists and Artisans (ACAA), which promotes many classes of art. This is a very important affiliation as exhibition of art is very important in Cuba.

The title evokes the couple's game in the preamble of a loving relationship, it focuses on the charm and the song that flourishes with each caress and where the seductive character of the female imposes rhythm in this erotic dance.
Peerapong Duongkaew, Thailand, Marble, 2010
Peerapong earned his Master of Fine Art Degree at Silpakorn University, Bangkok. Now retired, he was a professor of sculpture at Chiang Mai University, Thailand for many years. He is also an accomplished painter and print maker. Peerapong has been exhibiting his art and participating in sculpture events around the world since 1986.  
He has participated in Bergen Rocks twice. "Rising Sun" is the sculpture he created on his second visit. This sculpture was inspired by his first visit in 2008. Each morning when he woke up he saw the sun rising from his bedroom window.  It is made from one of the most beautiful stones to be used at Bergen Rocks. The design of this sculpture can be appreciated by walking slowly around it while looking at it. With every step the sculpture will change/evolve. It truly has 100 personalities.  
Jiang Chu, China, Marble, 2011
Chu Studied at the Institute of Fine Arts in Guangzhou, China and now teaches at the Shaanxi Province Institute of Sculpture. He has been active in the international sculpture community since receiving his degree, his works can be found in China, Lithuania, Turkey, Germany, Israel and Romania and several other countries around the world.
Chu did not intend "Spring" to convey a message or to make a statement.  It is simply a pleasing form that exhibits the artist's skill in design and carving.  It is difficult to not imagine a piece of jazz music when viewing this sculpture. 
"Spring" is located in the Cornerstone Art Commons, just west of the Sculpture Pathway. 
Pham Minh Chien, Viet Nam, 2009
Chien holds a Bachelor's Degree in Fine Art, specializing in sculpture from the Fine Art University of Ho Chi Minh City. He lives in Ho Chi Minh City and sometimes teaches sculpture at his alma mater. He has participated in many symposia including An Giang Impressions at Chao Doc, where he became friends with Morton who was representing Canada. At the time, this event was the largest symposium ever held. 
Spring is a dual representational sculpture. The form could represent a flower in the spring, ready to bloom and be beautiful. It could also represent the lower torso of a young lady wearing a sarong. His statement is that "Spring" demonstrates that a young lady is like a flower in the spring, beautiful and ready to bloom.
Tran Viet Hung, Viet Nam, granite, 2008
Hung is a well-known sculptor in Vietnam. He earned his Bachelor of Fine Art Degree at Ho Chi Minh City Fine Art University. Several of his sculptures have been placed in public. Morton and Hung have participated together in several events and each of them have had monumental sculptures placed in the permanent collection of Hassla Open Air Museum in South Korea. 
Yin and Yang is the only sculpture created at Bergen Rocks using Granite. The material was salvaged from a building in Vancouver that was being demolished. 
Yin and Yang is a Chinese term that roughly translates to balance or harmony. At the top of Hung's sculpture is a man, the recessed area is a woman with hair flowing down her back and the negative space is the baby. With the form balanced on the end of the column, this sculpture is demonstrating that family is a good balance for your life.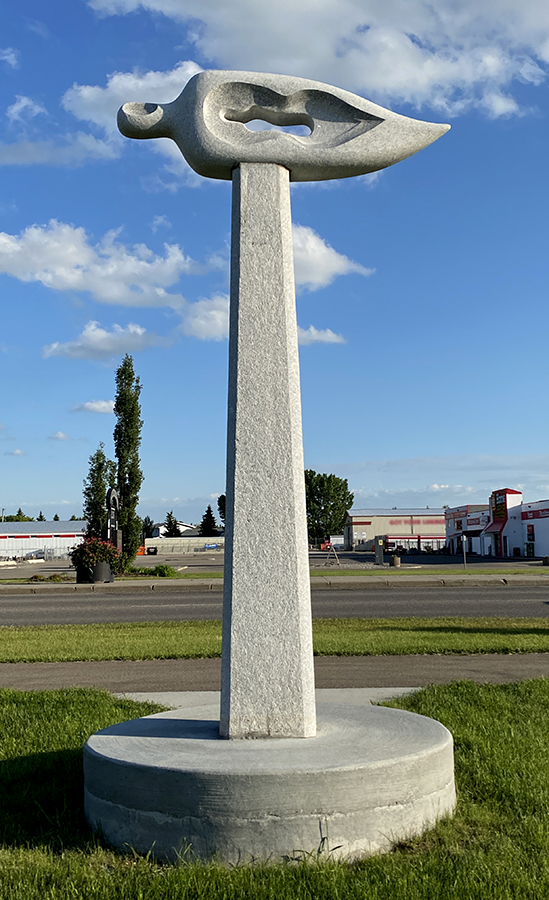 Morton Burke, Canada, Marble and Granite, 2019
The buffalo that this sculpture is modeled after was hunted by my grandfather in 1960, the last year that licenses were issued for hunting buffalo and the year that I was born. The taxidermy mount of the head hung in the main vestibule of Olds Agricultural College for over 20 years adding to the local significance of this sculpture.  
A few days after I started the work of transforming the raw stone into the form of a buffalo, I received the sad news that Thierry Lauwers had passed away. Thierry was one of the world's most prolific creators of public art, he was taken from us much too early in his life leaving far too many art works not yet realized. Thierry was a strong and honorable man who will be dearly missed by the international sculpture community, it is with the deepest respect that I dedicate this sculpture to his memory.  
The buffalo is an animal that is culturally significant to many of the Indigenous Peoples of Canada. Its meat was used for food, other parts were used for clothing, shelter and spiritual ceremonies. Nearly everyone who sees this sculpture will instantly recognize this connection.