I was married in Vietnam and lived there on and off for several years, I've been there 18 times. So, I thought it might be interesting to some people to see some of the things I experienced over there. It's a fascinating place. 
I find the traffic thrilling in Vietnam. Although at first it seems that there is no rhyme nor reason to it there is a system and it works amazingly well, they move thousands and thousands of motorbikes through the streets. It would create absolute gridlock in our system. It struck me that it is a very organic way of driving, like a school of fish or a flock of birds. If there is an obstacle the flow of traffic just divides and goes around it, rejoining on the other side. If you are turning right at an intersection you don't look to the left, you just approach the intersection and blend in to the flow of traffic, it's up to the bikes (or cars) coming from the left not to run into you. If you look to the left you're screwed, you'll end up stopping and never get going because you don't have the speed to merge and everybody behind you will think you're an idiot. If you want to turn left you watch for a gap and poke your bike out into it, the oncoming traffic will stop and then you move ahead another row until you are across into the left, oncoming, lane and headed the way you want. Another technique is to drive straight into the oncoming traffic and move over a line of traffic at a time until you are on the left side of the road, that is actually quite a bit faster and doesn't slow traffic down as much as going straight across.
At first it seems like chaos but after you understand it it's really quite easy.
All the beeping is not irritated people, it is communication. If you want to overtake someone you beep, they know you're there and move over a bit. The bigger the beep the bigger the vehicle behind…bike, car, truck. I've noticed that it's getting so that there isn't so much beeping now, but still you really shouldn't drive at all if your horn doesn't work.
There are getting to be more and more cars but there are still millions of motorbikes, it used to be bicycles. I guess that's progress but every time I go I see more cars and it is kind of sad to me, this is a really neat thing about Vietnam.
This is the parking lot at the University of Fine Art. Same thing at grocery stores and malls and markets, thousands of motor bikes.  Parking attendants help you get your bike out and make sure it's your bike that you are taking.  
This is a view of a traffic circle when it wasn't too busy, we just happened to be at the ice cream shop above it so I took a short video. Best thing to do is pick out one motor bike and follow it through the intersection. 
Sometimes there are traffic police in the center of a circle on an elevated platform. I read an article where they asked one about his job and he said he tries to direct traffic by pointing and blowing his whistle but its hopeless, people just go where they want to, however he keeps it up all day because that's his job.  
Here is a slow spot at an intersection on the way home during a busy time. You'll notice there are several lanes of movement, kind of 5 main ones. If you need to turn left or right you move over a lane at a time until you're near the side you need to be on. If you need to get straight across you just poke your bike out into an intersecting lane and kind of wiggle your way across, remember the video game Frogger? 
Walking across the street you just step out into the traffic and walk, good idea to watch the oncoming traffic to make sure they see you and they will go around. I usually take off my hat and hold it high over my head to make sure they see me. Whatever you do don't stop, that's so strange over there that you will likely cause an accident, they expect you to be crossing not standing there 
This one is explained in the video but watch the incoming bikes on the street entering the main street. They don't look at the traffic on the road they are entering, just look where they are going to. It's very cool although a little unnerving at first.
Almost all of Vietnam is closely connected to water. Canals and rivers are as common for transportation and moving goods as roads are at home. Most of the land is very low lying so larger boats can only move at certain times of the day, when the tide is in and the rivers come up. I think this picture is from the Mekong Delta about 200km inland from the ocean however it is still affected by the tides due to the fact that it is still nearly at sea level that far inland. 
A busy street market on Phu Quoc Island, the food is picked daily so it's absolutely fresh. No refrigeration here so meat is kept on ice. Most people shop for food daily. I was surprised that convenience stores carry quite a lot of groceries and meat. Rather than go to a super market many people stop at the market or convenience store for food for supper every day. They have flyers to take home telling what the featured meats are for the week and that's what people plan around. Why do we need a million choices and why don't the little stores on the corner sell more than bread and milk? These people have community support figured out. 
Another thing they have figured out is public transportation. Lay down buses are awesome. Every seat folds down into a bed, two tiers of seats like bunk beds, three rows wide with 2 isles.  Each seat has a TV with headphones so you don't wake everyone up. People are respectful and talk quietly. No problem riding 4-16 hours on one of these buses, they are always full and you have to book in advance. If more people book they keep adding buses to the route so you can always get a seat. No wonder Grey Hound stopped operating in Western Canada, I couldn't make it from Red Deer to Calgary on the economy class style seating they had. 
It's nice to travel by bus on long trips but nice to have your motorbike when you get to your destination, we'd call them scooters, so the bus station will package them for you and load them in the luggage compartment. Pretty common going back and forth from Saigon to the Mekong, for instance, about a 6 hour drive 
Luong Van Thang, Pham Van Hang, Noell El Farro 
Of course many many many other artists have inspired me and encouraged me, these three come to mind as I write this since the ideas I have gleaned from them are ongoing, I feel bad for not mentioning others. Basically all of the sculptors that I've ever met have lent something to my path in art, I couldn't have done it without you all.  
Thang and his wife Huong have been good friends since I worked with him in 2005. Houng is a nationally recognized painter, Thang is one of Viet Nam's leading sculptors. They have a sculpture park at their home as does another friend, Pham Van Hang. These are the guys that inspired me to develop the Bergen International Sculpture Park, I'd have never thought of it if it weren't for seeing theirs.  
Every time I visit I can take an hour just looking around at the wonders there. 

Hang has art running in his veins. He is a painter, a poet and a sculptor, he has created many many monuments throughout the country, so fortunate to have such a wonderful bunch of friends in Vietnam (and around the world). One day my wife and I were taking a taxi home and I knew one of Hang's sculptures, of a dove, was ahead in the center of a traffic circle but we were turning. I asked the driver to go straight through and my wife asked me why. I pointed ahead and said "I want to look at that baby" She laughed and said "That's not a baby, it's a bird!" Sometimes language barriers are hilarious.  
Even Hang's house is a work of art, clad in a mosaic of broken tiles. 

I met Noell at the symposium in Russia and to my surprise he was also participating in the Sai Gon Sculpture Symposium later that year. He is well versed in archival art. One of my "things" is to wear a new hat to every international event I go to and have participants and visiting artists sign it. They make great souvenirs. Noell suggested that when I get 10 or so they would make a good archival art exhibit. Each one typically has the signatures of 40-50 artists and each one of them would certainly have produced a 1000 or more art works in their life. Using 50 signatures per hat as an average, that would mean each hat was signed by hands that have produced at least 50,000 art works. A collection of 10 hats would represent 500,000. That's a pretty cool idea, I'm working toward it, thanks for the great idea Noell. Those darn artists, how do they think of these crazy ideas?  
Of course many other artists in Viet Nam have also given me inspiration and treasured friendship, I can't even name them all. Hung, Cuong, Nam, Son, Minh, Bien, Anh and the other Anh, Chi Tu, Vu, Liem, Miss Hoang, Miss Phuong the other Miss Phuong, Chien, On, Phong, Do, Quang…..it's a really long list.   
The after party on the night of the opening of Peerapong's exhibit on a Saturday night was at a big bar in downtown Bangkok. The band was really good and they came to sit with our group on their breaks so I handed my hat and felt pen around for them to sign. The next morning I was looking it over and to my surprise I had the signature of Carlos Santana, I had no idea or I'd have gotten a picture of him wearing it. They weren't playing the next night. 
I have so many good friends in Viet Nam, every time I go we get together at a restaurant or someone's home to catch up. Food is always plentiful and delicious. Too many feasts to post a picture of all of them but you can get an idea from these photos. Every time the airplane wheels hit the tarmac in Canada I can't wait to return to Viet Nam.
I was married in Viet Nam and have also attended several weddings there. This one is a smaller affair that we were guests at, a relative of my wife. There is a very practical tradition in Viet Nam, no one gives wedding gifts. Instead when they arrive they drop an envelope in a box with enough money to at least cover the cost of the hall and catering so it's possible to invite every one of your friends to celebrate with you and not break the bank. We had two receptions as my wife is from the Mekong and I have a lot of friends in Ho Chi Minh City, it's about 6 hours between the two. In total about 600 people helped us to celebrate our wedding and due to their generosity we were able to donate about 12,000,000VN dong to a local hospital for poor people after the costs were paid.  Some weddings are well over 1000 guests.  
You have to be careful not to fill up on the first thing that is served because it just keeps coming and coming and it's all delicious. These are some of the dishes we had at this reception, I just got tired of taking pictures.  
My own wedding was awesome, my wife and relatives must have worked for weeks making arrangements and getting everything ready.  
My entourage were dressed colorfully and caried the traditional offerings to the ceremony. The groom carries the bouquet.  
The wedding ceremony was a very small affair, close friends and a few family members. It was held in my wife's brother's home where the family alter is located. When we arrived the offerings were handed over to the reception party of ladies that took them inside. 
When they returned we had the photo of my party going in, my wife and her family waited inside.   
I didn't know exactly what to do, I just followed her ques.  
There are rituals, as we also have, but different of course. It was important for someone to represent our parents, my wife's oldest sister and husband played that role for her and my oldest sister and her husband for me.  
At the hotel the bride and groom meet all of the guests as they enter and have their photo taken with them.
The reception itself was an eye opener, I didn't know what to expect.  The bride and groom sit outside of the room while toasts are made and stories are told, the grand entry takes place after all the formalities and people have already started eating. You can tell I just loved packing that bouquet.  
We had two receptions, one in Long Xuin where my wife grew up and another in Ho Chi Minh City. In HCMC a couple who neither of us knew accompanied us onto the stage for introductions. Ha, look at me, still carrying the bouquet. 
They did a ta da thing for all of the introductions, and have you ever seen fireworks in a reception? 
Introduction of bride and groom is quick but very nicely done.
Then it's on to the photo ops, the bride and groom go to each table for photos. Two photos at each table so you have a picture to send each guest with them in it thanking them for their attendance.  
At every table they want you to share in a toast, it's tradition, but no one told me you are actually supposed to just pretend. Holy crap, it's a good thing that these receptions end when the meal is finished. Everyone leaves like there is a fire in the building, no visiting no loitering. The whole reception takes about 2 hours including arrival and departure.   
When dinner is finished you go back to the lobby to take another photo with each group of guests as they are leaving. I had time for a sandwich during everything that went on, my friends told me the food was delicious.  
Notice the photo album, wedding pictures are taken a couple of weeks before the wedding so that the album is already printed and guests can look through it. That's a great idea and saves a bunch of time on the wedding day. 
So that's it for weddings, suffice it to say that I've learned that traditions are different everywhere. A common thread is friends and family coming out to help you celebrate your love for each other, and, depending on where you get married, you should have a bite to eat before you go to the reception. 
The motorbike is the principal mode of transportation, it never fails to amaze me what I see on what we would call scooters. This family may be on their way shopping and everyone carrying 2 bags on the return trip.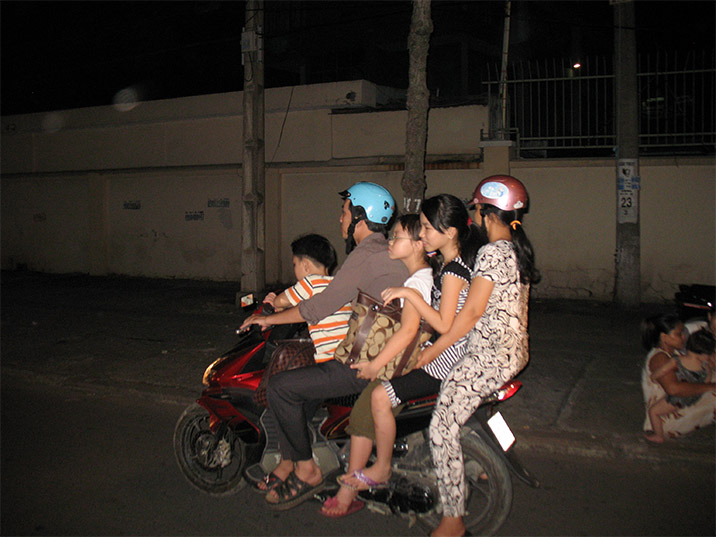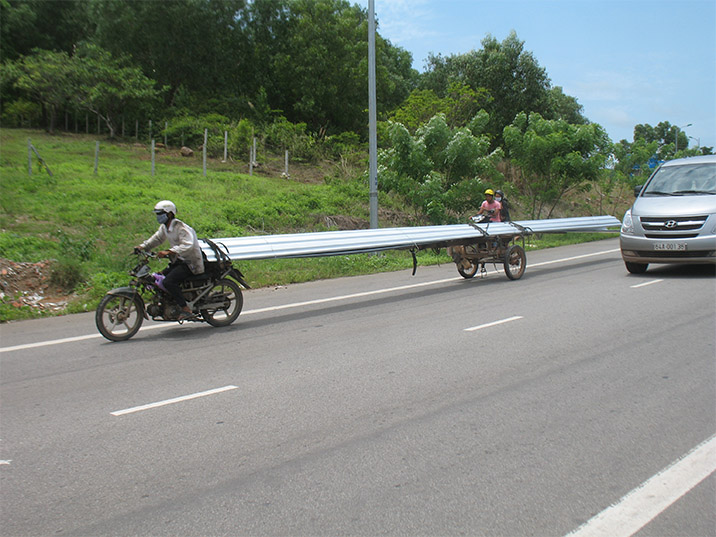 I guess they were 1 sheet of roofing tin short on a job.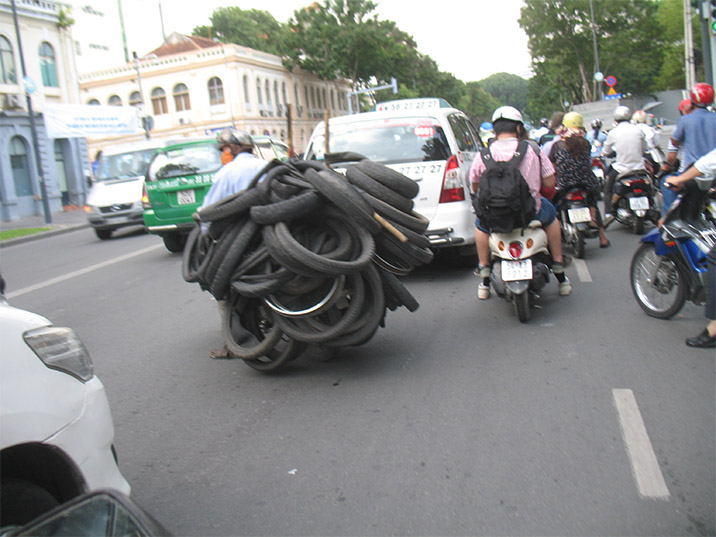 ½ a load of tires, I'm not kidding
Loads are often tied with rubber tarp straps, no leaning into the corners. This guy has ratchet straps, deluxe.
Although this one has a trailer I'd still say he has a pretty good load on the bike. Keep in mind a lot of these are 80cc.
No sense letting the space in front of your legs go to waste, and just get your sister to hold the new dresser on the back.
Back at home people think you need a pickup truck to take your 100lb propane bottle for a refill.
When you enter a large parking lot you get a ticket just like a car parkade and you are charged by the hour but a photo is also taken of your license plate that corresponds with your ticket number. When you are leaving your ticket number is compared to your license number to ensure you are leaving with your own motor bike and not someone else`s.
Since there are millions and millions of motorbikes there are air and tire repair shops everywhere. You can stop on the side of the road and for the equivalent of a penny or so get air in a tire. Repair shops look like this, quality work done quickly and cheaply without even removing the wheel. The use of fire in the process vulcanizes the rubber which is the best repair possible. Too many interesting things to see in Viet Nam.
I was surprised the first time I went to a restaurant and they brought my dinner to the table clucking. It makes a lot of sense, the customer knows that their food is fresh and they are getting a fair deal because they weigh it for you right beside your table. Also no refrigeration is needed. It's fairly common except in the touristy areas, I like getting off to the areas where the average people are living.
Sometimes after work we'd play a drinking game, stick a chop stick into the head of your chicken (that came cooked with the chicken) and put it in a beer bottle. People take turns spinning it and if it stops pointing at you, you have to drink, then it's your turn to spin.
I thought this was really cool. There are small fish farms all over the country, some of them build patios over the ponds with sun shades of some sort and a restaurant. You can book a cabana and order from the restaurant and just hang out enjoying the hammocks or you can fish in the pond and have the restaurant cook up your catch. You can also go just to fish and pay by the pound for what you catch to take home.
Street food in Vietnam is delicious and it`s everywhere. This Vietnamese sub vendor is set up near our apartment every day and his subs, called 'bun me', are delicious. Many people eat street food more often than they eat at home because the prices are very reasonable so why not skip the dishes. They get to know who has good food and frequent the same vendors over and over, some are outright famous for their specialty dishes and have set up in the same place for years.
People at home get excited about prawns, which are basically large shrimp. I wonder what they would think of these babies, (they aren't babies, they are shrimp). This one reached from my wrist to my elbow.
I often ate a restaurant where they were building a new hotel next door, everyday we'd see this fellow digging. Over the span of a month I observed the progression of the footings being dug by hand!! It was incredible. There are very few basements as Ho Chi Minh City is only 21 feet above sea level.
The sun can be brutal and it is common to see people completely clothed to protect themselves from the sun. This lady is selling snacks on the beach and will be wearing long sleeves, long pants and gloves. Keep in mind that it is likely 100 degrees or more. Not a laughing matter, my photographer was hospitalized for 5 days from the sun and we were told there was a good chance he would not live. He had a temperature of 43 for 4 days, apparently it's a miracle he didn't have brain damage but I think the doctors just missed that…..hahaha Brad
You can't show photos of Vietnam without at least one of the power lines, I don't know how they keep track of which ones go where. Notice KFC in the background, they have stores in every country I've been to.
I visited Vung Tao on the coast with Cuong and his family one time and decided to return to Ho Chi Minh City by hydrofoil rather than doubling on a bike. These go up the Saigon River and only takes about 45 minutes instead of 4 hours. Well, the boat was sold out, I don't know what Cuong said but he is known all over VN and I ended up riding in the cabin with the captain. Cool part of the story is that the boat broke down about 2/3 of the way to HCMC, after the crew tried to get it going for 15 minutes or so I suggested I might be able to track down the problem……after about 10 minutes I got it fired up and we were on our way again. They were pretty surprised because they thought I was just an artist, they didn't know I was from Bergen though. It was a bad electrical connection.
I couldn't make a post about Vietnam without including art, it is everywhere as it is across all of Asia and Europe. The cultures there are much older than ours and they have had 1000s of years to develop public art. My home province, Alberta, in Canada is only 115 years old so we have been busy building roads, hospitals and clearing land. With modern transportation and the internet we have the opportunity to catch up quickly, lets "Git er done"
The photos below are of some of sculptures realized in two symposia at Chau Doc in 2002 and 2005. They have been placed in the median of the road going into town, there were over 110 created in the two "An Giang Impressions" symposia so these are only some of the sculptures.  Most of the pictures are taken out of the car window as we drove past and I didn't have a chance to make note of the particulars of the sculptures. I apologize that I don't know all of the titles or authors names, information is included for those that I have some knowledge of.
John Wiedman, USA, "Relations" 2005, Granite
Jock Hildebrandt, Canada, "Your Thoughts Can Set You Free", Marble and granite, 2005
I think this is Ngo Liem from 2002, I hope I'm right.
Luong Van Thanh, Viet Nam,, 2005, "Embodiment", Marble
Christina Eriksson Fredriksson, Sweden, "Copy Silence, Copy Sound"
*Note, after Christina completed this sculpture, which is a bench, I tried it out several times and found it impossible not to hear one of my favorite songs. Others had the same experience. Very cool!!
Author and title unknown, 2002
Emil Ademec, Czech Republic, "Mother of Mekong River" 2005, Marble
Jock Hildebrant, Canada, 2002
Alois Lange, Japan, "Spacestation Loy", 2005, Marble
Peerapong Doungkaew, Thailand, 2005 "Goddess of Fertility and God of Wealth", Marble
Phan Thi Gia Huong, Viet Nam, "The Source", 2005, Marble
Pat Galbraith, Canada, "Connection" 2005, Marble
Nguyen Van Hung, Viet Nam/Belgium, "Mr. Trang Quynh" 2005, Marble
Tran Viet Hung, Viet Nam, 2002, Granite
Peerapong Dongkeow, Thailand, 2002, Marble
Morton Burke, Canada, "Eagle", 2005, Marble
Morton Burke, Canada, "Spirit of Navarre", 2005, Marble
Deborah Wilson, Canada, "Chuluky" 2005, Marble
The traditional dress for Vietnamese women is called Au Dia, although western style clothing is very popular now the Au Dai is still worn by most ladies at work in shops and offices and almost always at formal functions. It is made from silk and tailored to the maximum. It seems like 25 or more measurements are taken; at the wrist, the middle of the forearm, the elbow, the bicep etc, and so on around the body. This dress covers from neck to feet and wrist to shoulder with a long slit up the dress that goes high up the waist, matching pants are worn underneath. There is a saying that when a lady wears an Au Dai she hides everything……but shows everything.
And men wear them too, but only when they get married.
This last photo pretty much sums up how I feel about Viet Nam. It's a country that has a tragic past, 1000 years of occupation by China, more than 100 by France, 20 or so by USA. Several other countries have taken a swing at them too. Throughout it all the people maintained their culture, never gave up and dreamed of the time when Viet Nam would be independent again. Since 1975 when the USA was driven out they have had independence, the country is developing at break neck speed and the people exude happiness. If you travel to SE Asia I highly recommend you include VN in your plans.